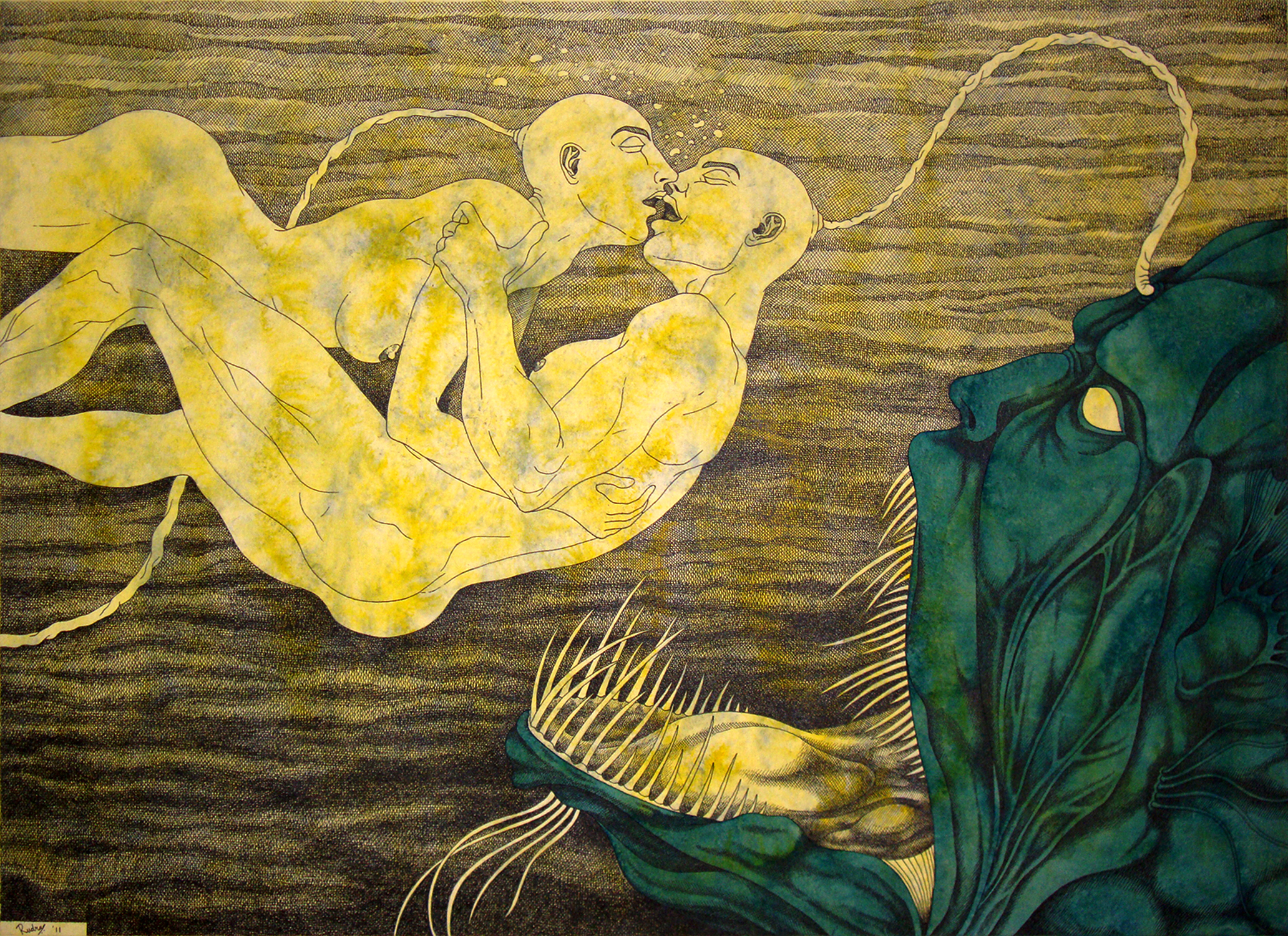 Titles
– Redemption
– The Lure
Art Description
Both paintings: Figurative, surrealistic, symbolic and introspective art which explores the world of fantasy and magic realism through its imagery. Medium: Watercolor, pen and ink on handmade paper. For this exhibition prints on metal will be displayed.
Artist Bio
They graduated as a Bachelor of Fine Arts in 2002 from S.V. College of Fine Arts in Hyderabad. They create independent artworks in the varied mediums of painting, digital graphics and art installations. Their chosen medium for creation is watercolour, pen and ink, acrylic paint, pencil and charcoal on paper/canvas. They have exhibited in group shows nationally and internationally in collaboration with Alliance Francaise De Hyderabad, American Center, British Council, Goethe Institute, Consulate General of Italy, Italian Ministry of Culture, Eurasia, Danshauspiu, Spazio Tempo Arte, AIAPI, UNESCO, Queer Asia, Amnesty International, Blackwall, SOAS University London, British Museum, KCC and ICCR in Kolkata, India.
Their art is an exercise in exploration of the self, as a creature of nature; an evolution through understanding of their physical, sensual and spiritual needs. It is an expression of personal confusions, visions, emotions and realizations. On one hand it is a projection of their thoughts on worldly matters, which often baffle and trouble them, and on the other it is a personification of their lunacies, fantasies, magical dreams, wicked thoughts and mischievous self expressions. Through its untamed and fantastic imagery, their art seeks to invite intimacy, inspire introspection and provoke dialogue.
Artist Location
Kolkata, West Bengal, India

Websites / Links
Blog: rudrascape.blogspot.com
Instagram: @rudrascape
Facebook: facebook.com/rudrarts
Online galleries:
Artfinder
Saatchiart