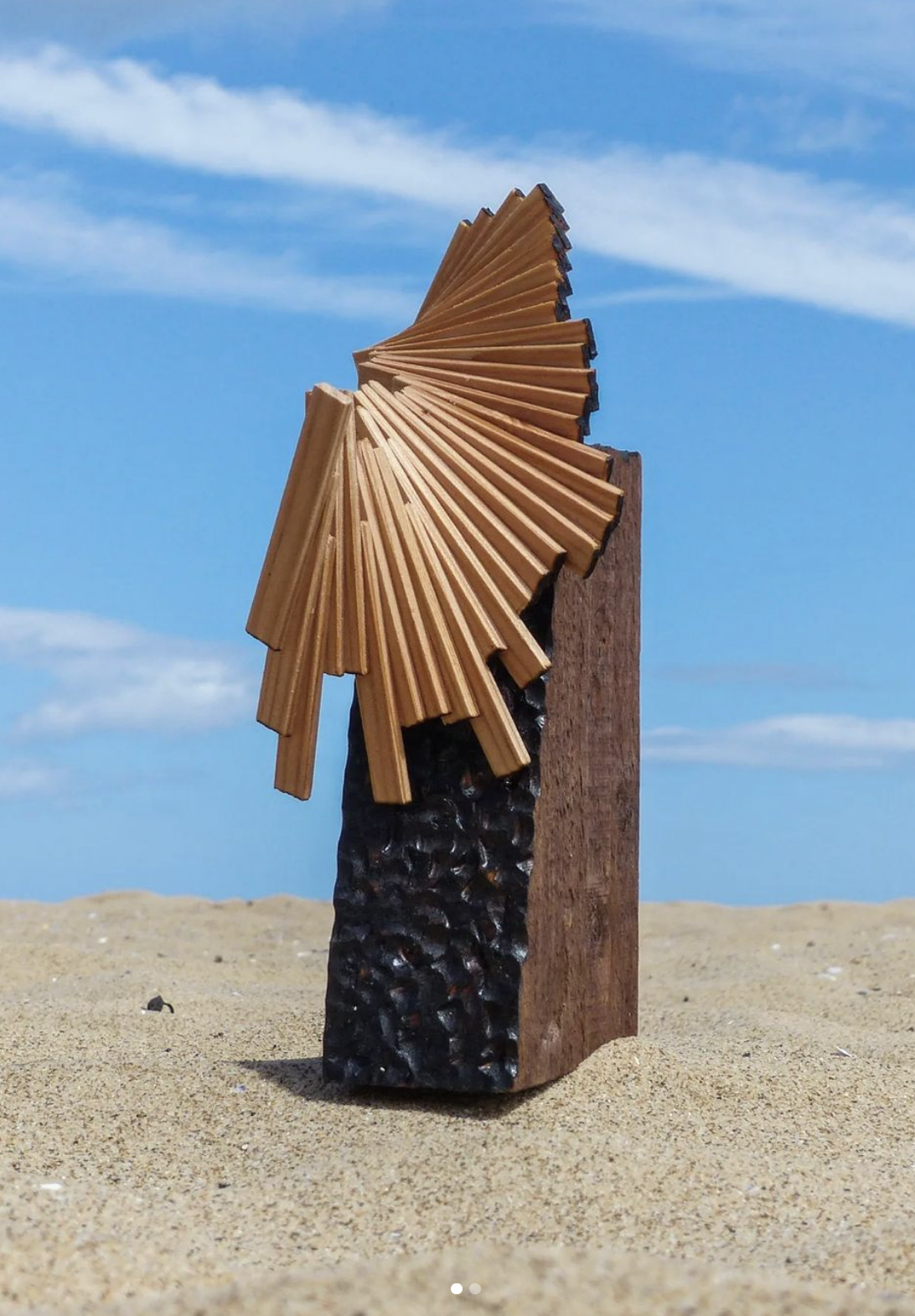 Titles of Work
– Strength in Numbers
– Ashes to Ashes'
– Those Waking Dreams
Art Description
'Strength in Numbers'
Obeche and Steel on Stained Timber 2022 An initially abstract arrangement of rectangular wooden forms, maps the previous attendance numbers at every former annual Burning Man festival. Realized through a process of visualizing statistical data, dating back to 1986, the formation stands perched on top of an arched plinth, carved to recreate the collective impressions of footprints.
'Ashes to Ashes'
Charred Spruce and Steel on Charred and Stained Timber 2022 Mapping the history and feats of the previous Burning Man events, the posture and formation of the sculpture is drawn from statistics depicting the height of the Burning Man centerpiece. Edges and surfaces of both the sculpture and plinth, remain charred to represent the fate of effigies that have previously stood center-stage at the festivals.
'Those Waking Dreams'
Lacquer and Pearlescent Powder on Pine and Steel on Painted Timber 2022 Following the theme of 'Waking Dreams,' this sculpture finds its form and structure from statistics highlighting the frequency of first lucid dream experiences, through different age groups. Finished in pearlescent powder, the piece shows a major spike in the mid-teenage years before a minor spike in the late 60's age category.
Artist Bio
Cameron Lings is a Contemporary Artist and Sculptor based in the UK, whose practice consists of generating three-dimensional form directly from bodies of data-sets and statistics. Through a systematic and research-based approach, his creations realize themselves as functioning sources of information – despite their initial abstract traits. Lings utilizes variants of scale, shape and material choice throughout his works, in order to enhance their relevance to both a subject and site.
"My current work tends to ironically create itself, and in a way, already exists – only in a non-artistic language. I have found that my place within my present practice, is to translate what already exists into a format, which not only results in an intriguing piece of artwork, but as bridge between the gaps of science, mathematics and contemporary art."
Artist Location
Durham, United Kingdom
Websites / Links
Website: cameronlingsart.com
Instagram: @cameron_lings_